Revenue from sales of the Wirtualna Polska Holding Group in Q3 2018 was more than PLN 143 million. This is an over PLN 30 million increase yoy – the highest in the company's history. In October, WP acquired the Extradom.pl and Parklot.pl services. Currently as many as 21.8 million Poles (Real Users) use the Group's Internet products.

WP Holding closed Q3 2018 with a net profit of PLN 21.7 million. This is nearly 60% more than in the corresponding period last year. Adjusted EBITDA in the online segment stood at PLN 46,976 thousand. In addition, the Group has been consistently implementing its strategy in the TV segment, where Q3 revenues increased by 79.2%.
The following table presents the main positions of the income statement for the third quarter of the year 2018 and 2017: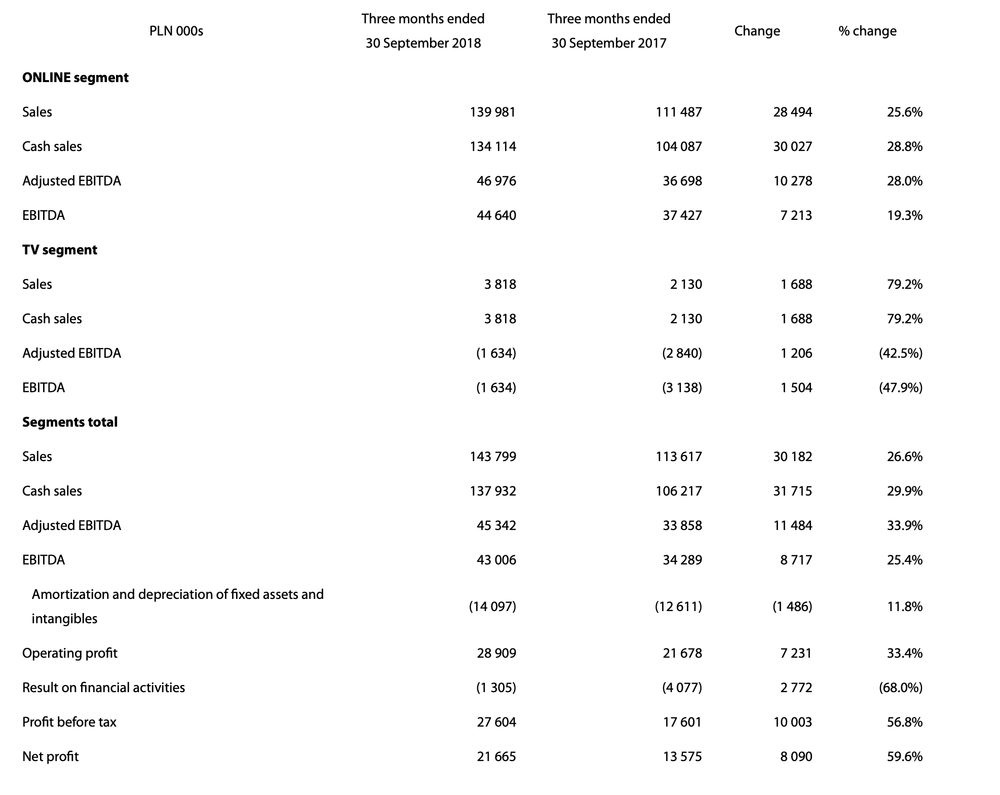 – For five years we have not wasted a single quarter, each time recording a growth in our online operations. This time we have an additional reason to be happy because in the past three months the total nominal increase in EBITDA and revenues yoy was additionally the highest in Wirtualna Polska's history. This is the effect of execution of the e-commerce development strategy and a better year in WP Media SA – says Jacek Świderski, CEO of WP Holding SA.
According to the latest Gemius/PBI study of October 2018, as many as 21.8 million real users were using the Group's online products, which represents a 4% increase yoy. This result gives WP the second place in the ranking – just after Google – and strengthens the company's leader position among Polish online publishers.
In addition, last month the Wirtualna Polska Holding closed two major e-commerce transactions. For PLN 75 million it acquired the Extradom.pl service specializing in online sale of architectural designs. Thus WP has entered the single-family housing construction market. With Wakacje.pl SA, it has also acquired the marketplace intermediating in booking parking places at the biggest airports in Poland – Parklot.pl. The service boasts the largest number of users in its category, offering nearly 50 airport car parks.
At the same time, Wakacje.pl is rebranding the network of My Travel outlets acquired six months ago. Currently a dozen or so new outlets are already working under the wakacje.pl brand, and new ones will join them over the next few months.
Wirtualna Polska is a group of companies operating in the media and e-commerce sectors. According to the Gemius/PBI study of October 2018, 21.8 million real users used WP Group Internet products, making 2.9 billion views and spending on average 36 minutes and 35 seconds on the websites daily.