Owing to the two-digit growth rate in e-commerce and the steady pursuit of its strategy, the WP Group generated record-high revenue. In the online segment alone revenue reached nearly PLN 460 million. The online segment's adjusted EBITDA for 2017 smashed the PLN 150 million mark. WP TV became the leading MUX-8 broadcaster in terms of viewership.

Wirtualna Polska's financial performance was driven predominantly by the above-average growth of e-commerce travel and tourism companies (Wakacje, Nocowanie, eHoliday), interior decoration retailers (Homebook), fashion houses (Domodi, Allani) and financial service providers (TotalMoney). In 2017, EBITDA reported by wakacje.pl surged 39%. Consolidated cash revenue from sales of all services provided by this company in 2017 was more than PLN 423 million.
The following table presents the main positions of the income statement for the year ending 2017 and 2016: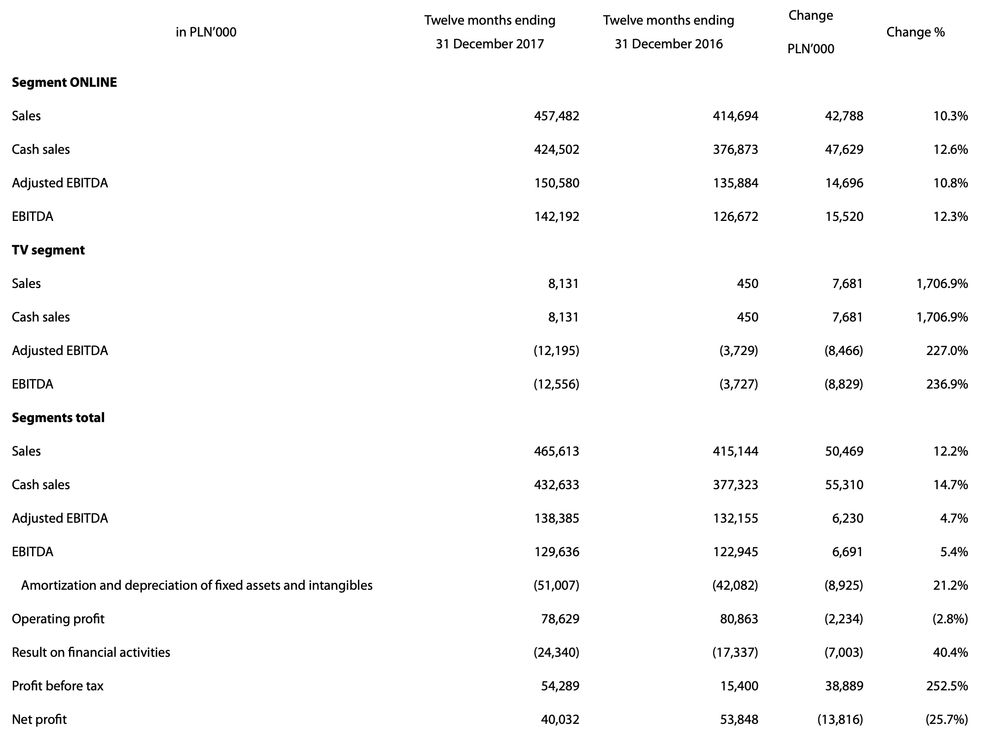 Since the acquisition of Wirtualna Polska 5 years ago, our revenue grew from PLN 150 million to PLN 465 million and our EBITDA swelled from PLN 50 million to PLN 150 million. And all of us at Wirtualna Polska are proud of this achievement – says Jacek Świderski, CEO of Wirtualna Polska.
In February 2018, WP TV became the leader in terms of viewership among the broadcasters available on MUX-8 terrestrial digital television. The station's share in the commercial viewer market (viewers aged 16-49) was 0.38%.
This record-breaking result was driven largely by "The Chairman's Ear" series broadcasted from 20 January. Premiere episodes of the first two seasons on WP TV were watched by an average of 163,000 viewers, and the 7 most popular episodes drew in more than 200,000 viewers. On 18 March, WP TV will start broadcasting the third season of the series. Premiere episodes will be broadcast every Sunday at 8:00 p.m.
The WP Pilot application also underwent major changes in 2017 aimed at improving the viewer experience and ensure the highest quality of TV channels. According to a Gemius/PBI survey, this proposal of convenient and legal access to online television attracted as many as 1.9 million real users in February through the website and the app. It also received an award at the Mobility Trends Gala and was selected the best B2C app in 2017.
Wirtualna Polska is a media and e-commerce holding group. According to a Gemius/PBI survey, in February 2018 21 million Poles used WP's internet products. The WP Group owns the Wirtualna Polska horizontal portal which gained 800,000 new real users year-over-year. It also offers a website that responds to information and entertainment needs of young Internet users: o2.pl and specific topic-oriented websites.