Wirtualna Polska Holding S.A. has kept its leading position among Polish online publishers. In the first half-year of 2020, the company reported sales revenues in the rate of PLN 261 million as well as a net profit of PLN 15 million. These results were achieved despite the fact that due to the COVID-19 pandemic one of the companies in the Group could not generate any earnings.
After first two quarters of 2020, total sales revenue posted by Wirtualna Polska Holding S.A. amounted to PLN 260.8 million, whereas adjusted EBITDA stood at PLN 79.9 million, representing a fall of 16% as compared to the previous year. At the same time, the company's net profit reached PLN 15 million. The results after the first half-year were seriously impacted by the COVID-19 pandemic as the restrictions imposed by authorities undermined the leisure travel business. Yet, with its diversified company portfolio, the holding was able to mitigate the negative impact of the pandemic on the performance of the whole Group.
The foreign leisure travel market in particular has been severely hit by the restrictions and closed borders. However, aside from the loss suffered by Wakacje.pl, Q2 ended with a robust growth of Group's EBITDA, ranging 14% year on year. And for this, I owe a big thank you to all the Citizens of Wirtualna Polska Holding. Our one thousand and eight hundred employees are the ones who fought hard to maintain the company's financial security in this difficult and uncertain quarter. A special thank you goes to our media company headed by Vice-President Joanna Pawlak; as the most powerful entity in the Group, it provided financial support to other companies of ours which were not faring so well. In fact, despite physical distance, during this quarter we were closer to one another than ever before, said Jacek Świderski, CEO of Wirtualna Polska Holding S.A.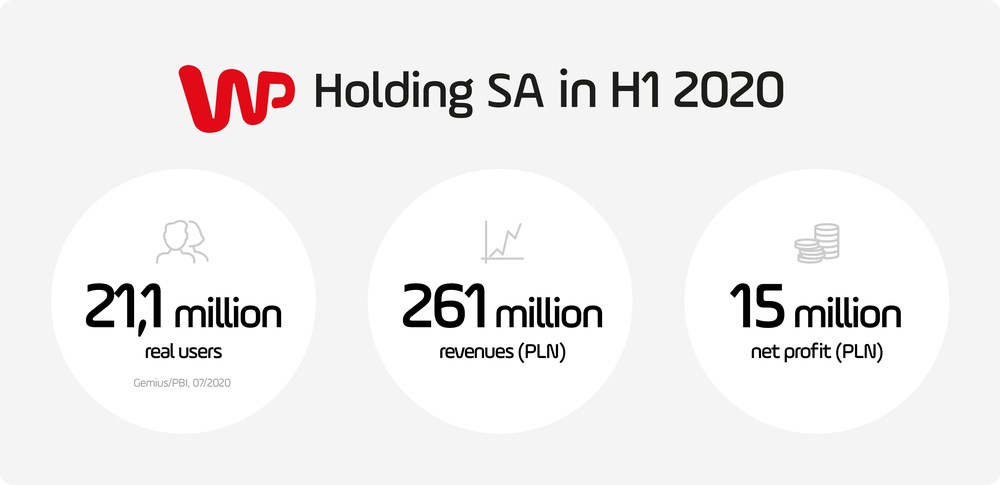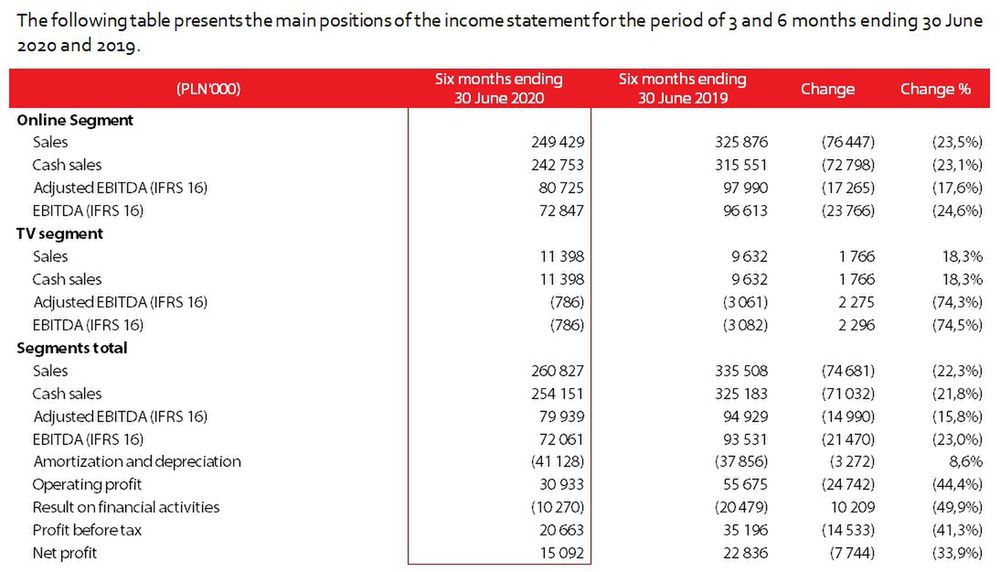 In the first half-year of 2020, WP TV secured a market share of 0.69% in the 16-49 age group, taking the first position among channels available on the digital MUX8 multiplex. The Nielsen Audience Measurement has revealed that WP TV posted a 58% growth as compared to the first half-year of 2019, representing the highest growth rate among all terrestrial general-interest channels.
Wirtualna Polska is a technological holding group involved in media and e-commerce business. It owns the WP Home Page and operates specialized topical websites such as money.pl, WP SportoweFakty and autocentrum.pl. In the e-commerce sector, WP operates in the areas of leisure travel (including wakacje.pl, nocowanie.pl, eholiday.pl), fashion (domodi.pl, allani.pl), interior design (homebook.pl) and house design (extradom.pl), financial services (totalmoney.pl) and automotive (superauto.pl). According to a Gemius/PBI survey, 21.1 million Poles used WP's online products in July 2020.