The third quarter of 2015 was yet another quarter in which Wirtualna Polska Holding (WPL) maintained its high revenue growth rate, exceeding market expectations. Even after eliminating the effect of acquisitions in the third quarter, the Company can boast of an impressive increase in cash revenue of nearly 25% compared with the pro forma financial data for the corresponding period of 2014. WPL continued making acquisitions, thus consolidating its position in the important financial e-commerce segment.

"Growth in the third quarter of the current year was much harder to achieve than in previous periods due to the high comparative prior year base which, for the first time, includes the synergies arising from the merger of WP and o2. The aggregate increase in cash revenues over the two years, comparing the third quarter of 2015 to the corresponding quarter of 2013, has exceeded 75%, which is rare for such a mature company and market. Both the financial data describing the organic growth and our continued acquisition activity confirm the forecasted, consistent development of Wirtualna Polska," says Jacek Świderski, President of the Management Board of Wirtualna Polska Holding S.A.
Over the nine months of the current year cash sales revenue, recognized for comparative purposes net of the acquisitions made by the company in 2015, amounted to PLN 193.9 m. It increased by 27.3% compared with the revenue calculated based on the pro forma financial data for the corresponding period of 2014 and by 24.8% in the third quarter alone.
"This was possible thanks to the revenue synergies achieved and the consolidation of the Company's market position," says Elżbieta Bujniewicz-Belka, Member of the Management Board, CFO at Wirtualna Polska Holding S.A.
Over the nine months of 2015 WPL generated PLN 74.4m worth of adjusted EBITDA, which is an increase of PLN 15.6m compared with the pro forma EBITDA for the nine months of the previous year. EBIDTA, which amounted to PLN 63m, contributed to generating net cash inflows from operating activities of PLN 57.6m. The adjusted EBITDA pro forma for the last twelve months reached PLN 99.6m.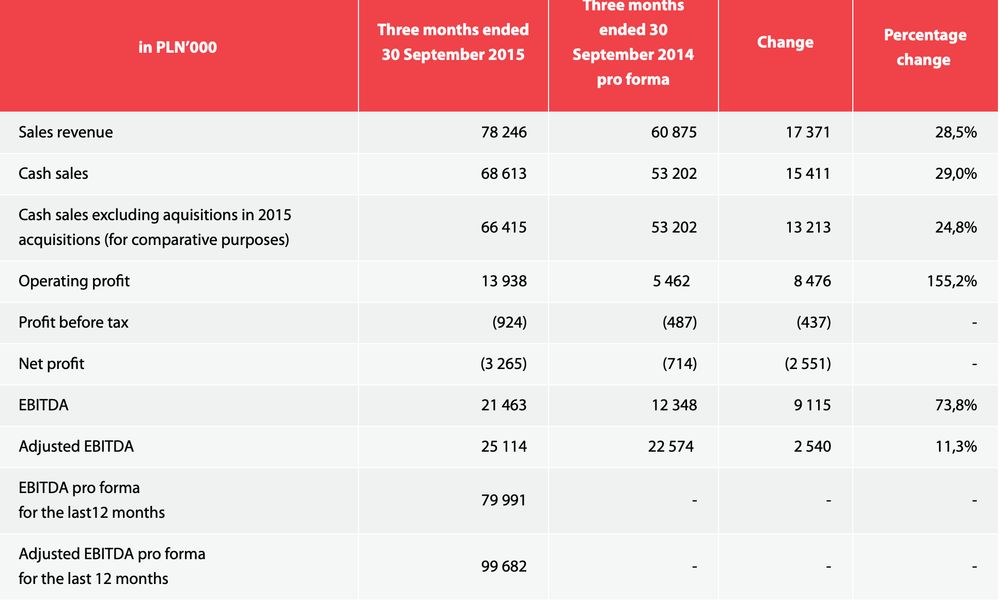 Continuing its acquisitions, in September 2015 the Wirtualna Polska Group acquired Finansowysupermarket.pl and Jedenwniosek.pl. Both portals are independent comparison engines enabling to choose freely from among financial, savings and investment products offered by a number of institutions in Poland. This acquisition has supplemented Wirtualna Polska Group's competencies and increased its scale of operations and market share in the financial e-commerce segment.
"We strive consistently to achieve the position of main information, cultural and entertainment medium in Poland by providing Poles with attractive contents and inspirations in their everyday decisions, particularly consumer decisions," adds Jacek Świderski.
Contact for the media:
Point of View Business Communications Consultancy
Marta Marczak, mm@pov.pl, mobile: 695 602 099
Urszula Kułak, uk@pov.pl, mobile: 693 521 533
Wirtualna Polska
Katarzyna Halicka, Katarzyna.Halicka@grupawp.pl, mobile: 502 707 138