Wirtualna Polska Holding S.A. ended the third quarter of 2020 with a net profit of PLN 26.5 million. Compared to the same period last year, its EBITDA rate grew by over 9%. Such results were achieved despite the ongoing COVID-19 pandemic and the restrictions it led to, undermining the Group's operations in the area of leisure travel business.
After three quarters of 2020, the total sales revenue posted by Wirtualna Polska Holding S.A. in the online and tv segment accounted for almost PLN 414 million, representing a fall of one-fifth as compared to the same period last year. The main reason were lower results in Q2 2020, driven largely by the COVID-19 pandemic. However, with the diversified company portfolio, operating in the media sector in particular, the group was able to close the third quarter with an almost 24% higher net profit rate than in 2019.
– Except for our two companies operating in the leisure travel industry, the EBITDA of Wirtualna Polska Holding in the third quarter of 2020 went up by as much as 45% compared to the same time in 2019. This is a truly impressive result and the best evidence confirming how powerful our Group is, even in these tough times – said Jacek Świderski, CEO of Wirtualna Polska Holding S.A.
WP is launching a new advertising product called WP Sales Booster. With it, e-commerce stores will be able to boost the sale of their products and achieve a guaranteed sales outcome. Initially, the product will be dedicated to the clothing sector. WP Sales Booster will eliminate intermediaries such as Google or Criteo, and at the same time provide similar efficiency, thus lowering the costs of sales campaigns.
Q3 2020 was also another quarter marked by record-breaking results in the television segment. WP TV was able to enhance its market share: it grew by over 31% as compared to the same period last year. As a result, since the beginning of 2020, we have kept the leading position among all terrestrial channels available on the digital MUX8 multiplex.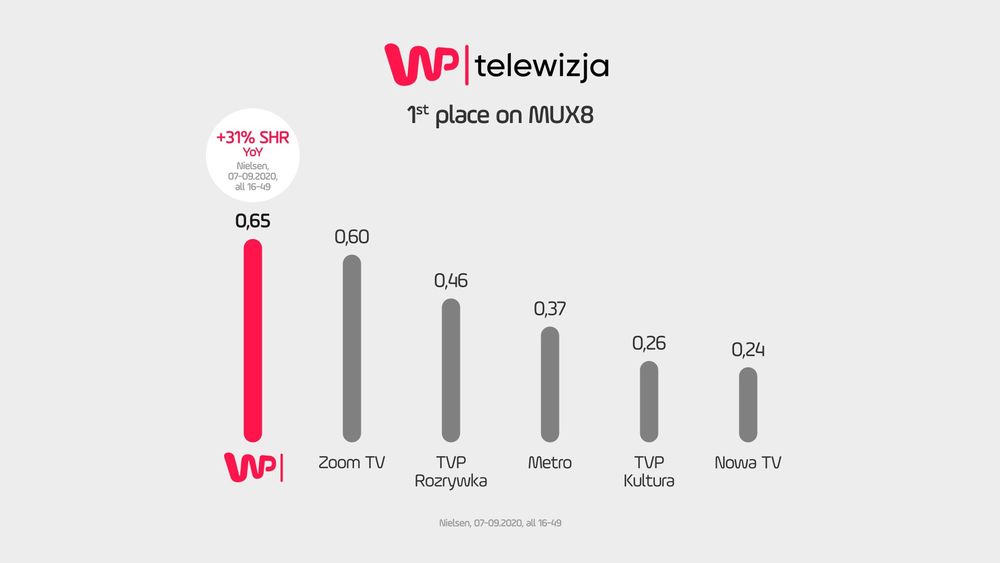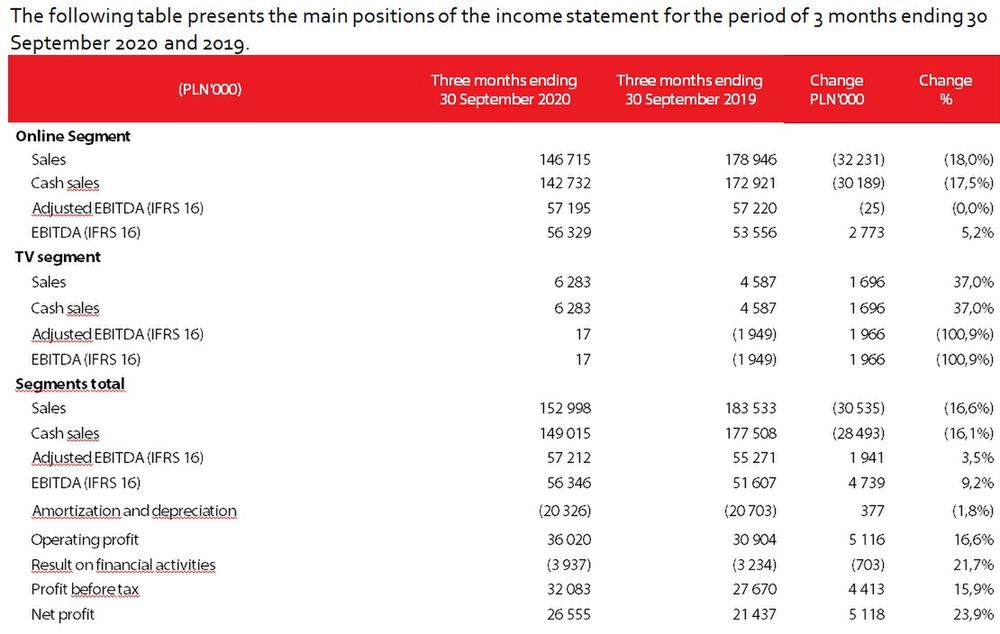 Wirtualna Polska is a technological holding group involved in media, advertising and e-commerce business. It owns the WP Home Page and operates specialized topical websites such as money.pl, WP SportoweFakty and autocentrum.pl. In the e-commerce sector, WP operates in the areas of leisure travel (including wakacje.pl, nocowanie.pl, eholiday.pl), fashion (domodi.pl, allani.pl), interior design (homebook.pl) and house design (extradom.pl), financial services (totalmoney.pl) and automotive (superauto.pl). According to a Gemius/PBI survey, 21.8 milion Poles used WP's online products in October 2020.