One year after Wirtualna Polska's floatation on the Warsaw Stock Exchange, investors have good reason to be satisfied - the company's equity value has grown by more than 37%*. The Management Board has consistently delivered on the declarations it made during the IPO, including its policy of consolidating the internet market in Poland. WP posted robust performance in Q1 2016. The revenues on the sale of the Group's services were PLN 88.5 million, climbing organically by nearly 13%.

For Wirtualna Polska the first quarter of this year was above all a period in which it continued to pursue its "MoViBE" strategy: mobile, video, big data and e-commerce. The Company launched another mobile application called o2 as well as new versions of the largest radio applications in Poland: Polska Stacja and OpenFM. Wirtualna Polska's next step was to launch new products based on its user knowledge (among others WP Data Power) to enhance effectiveness by tapping into the Group's data resources and big data tools. The acquisition of TotalMoney.pl, a leading shopping engine for bank and insurance products, has bolstered WP in its position as a leader in the e-commerce financial segment.
"We are very pleased with our first year of being on the stock exchange and the effects of implementing the "MoViBE" strategy we announced. We are growing organically at a faster pace than our competitors; on top of that, the capital market has provided us with the funds to carry out more acquisitions. Our status as a public company has also enhanced our credibility in the eyes of our users and advertisers. By investing heavily in media products we have become the leader in rankings of the most influential and most frequently cited media. Our shareholders have also shown us their appreciation as the company's equity value has surged from PLN 900 million to PLN 1.2 billion, i.e. by 37%, whereas WIG Index decreased by 18% at the same time", says Jacek Świderski, CEO of Wirtualna Polska Holding S.A.
Stable pace of growth of financial results
The Group's consolidated revenues on the sales of services rose by nearly 13% to PLN 88.5 million in the first three months of 2016. In turn, cash sales revenues of PLN 80 million were up 13% compared to the pro forma sales revenues in the corresponding period of 2015. The EBITDA earned by the Group grew by more than 23% to PLN 24.4 million while adjusted EBITDA climbed 10% q1/q1 to PLN 25.9 million.
Comparison of the Group's operating results and financial position in the first three months of 2016 with the pro forma consolidated results for the corresponding period of the previous year: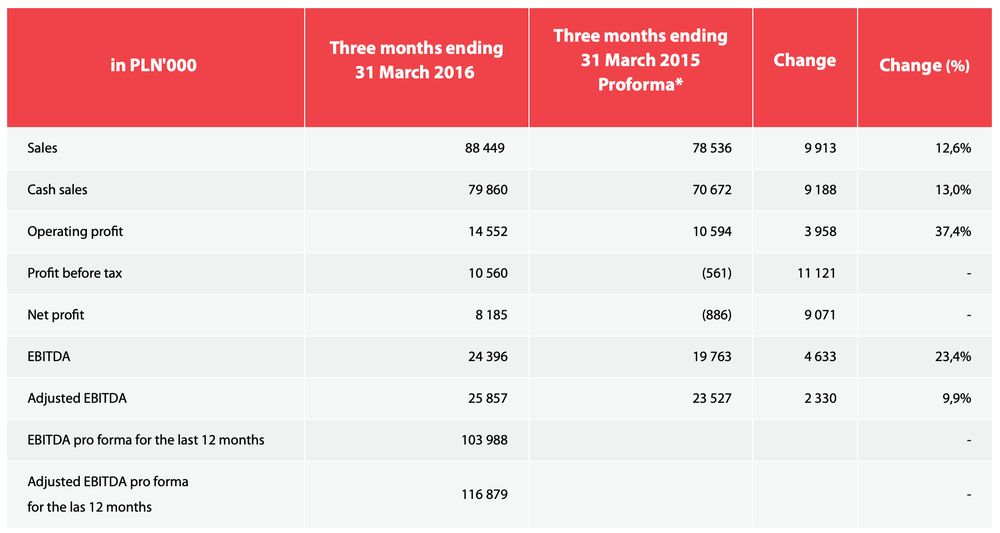 Details on the calculation of pro forma financial data are described in point 3.2. of this report Notes to the pro forma consolidated financial information for the year 2015.
"Our results are satisfactory; we achieved our Q1 targets, bringing us closer to reaching our targets for the year", remarks Elżbieta Bujniewicz-Belka, CFO of Wirtualna Polska Holding S.A.
Material events that took place in Q1 2016
The following events in Q1 2016 exerted an impact on the Group's current operations: the concession decision made by the Chairman of the National Radio and Television Council for a subsidiary of WPL to broadcast a universal television program, finalization of the acquisition of TotalMoney.pl sp. z o.o., the owner of TotalMoney.pl, a leading financial shopping engine and the extension of the available investment credit facility (by another PLN 50 million) designated to acquire companies and non-current assets, which is supposed to provide the Group with flexibility in the pursuit of its acquisition strategy.
WP Group highlights
The Group owns one of Poland's two most popular horizontal internet portals called Wirtualna Polska. It also runs the o2 horizontal portal and numerous specialist vertical portals, including in particular a business portal: Money.pl; a sports portal, e.g. WP SportoweFakty, a new technology portal: e.g. Dobreprogramy; entertainment portals: e.g. Pudelek and WP Gwiazdy; health and parenting portals: abcZdrowie.pl and Parenting.pl; and internet radio stations: OpenFM and PolskaStacja. In addition, the Group runs advertising business offering lead generation for internet stores, mostly through portals that aggregate the offers of internet stores (marketplace), in particular Domodi and Allani in fashion, Homebook in the home and interior decoration category, Money.pl and Finansowysupermarket.pl in finncial services and wakacje.pl in tourism and recreation. The Group offers its users the possibility of using e-mail free of charge; it also conducts business on the Polish online advertising market offering its clients an extensive range of advertising products: modern display, including video advertising, advertisements distributed by e-mail, advertising for mobile devices and advertising based on a performance model.
From 7/05/2015 to 6/05/2016
Contact for the media:
Maria Skoczkowska, maria.skoczkowska@grupawp.pl, mobile: 502 707 232
Katarzyna Halicka, katarzyna.halicka@grupawp.pl, mobile: 502 707 138
2016.05.13_gwp_financialresults_q12016.pdf
wpl_compliation_of_consolidated_financial_information_q1.2016.xlsx