WPH is closing another year with good results. The Group's revenues on the sales of services shot up 32% yoy to PLN 377 million. Its EBITDA was PLN 132 million, up by 23% over 2015.

Approval of the financial statements for 2016 marks the end of the first 3-year term of office of the current management board. We had another good year, third in a row. The EBIT growth ring of Wirtualna Polska's tree is as thick as in the first two years. Starting at PLN 50 million in 2013, we recorded 83 million and 108 million in the next years, to close 2016 with EBITDA profit of PLN 132 million. We are happy that our company, resilient to violent legislative winds, standing firm like a tree trunk, is in the place and in the condition which we aimed for – says Jacek Świderski, CEO of Wirtualna Polska Holding S.A. Our results are the consequence of consistent pursuance of our "MoViBE" strategy: mobile, video, big data and e-commerce. We believe that in 2017, for the first time, Wirtualna Polska's exposure to the e-commerce market will catch up with the advertising exposure – he adds.
Fast-paced growth in financial performance
The Group's 2016 revenues shot up PLN 90 million (27.5%) to PLN 415 million. In turn, cash sales revenues of PLN 377 million were up 32% compared to the sales revenues in the corresponding period of 2015. The EBITDA earned by the Group was up PLN 28.6 million to PLN 123 million while adjusted EBITDA climbed over 22% yoy to PLN 132 million. The acquisitions of players active in the web advertising and e-commerce market in 2015 and 2016 made a significant contribution to the growth in the Group's revenues and EBITDA. In 2016 the net profit was PLN 54 million.
The table below presents the highlights of the financial results for the year ended 31 December 2016 and 2015.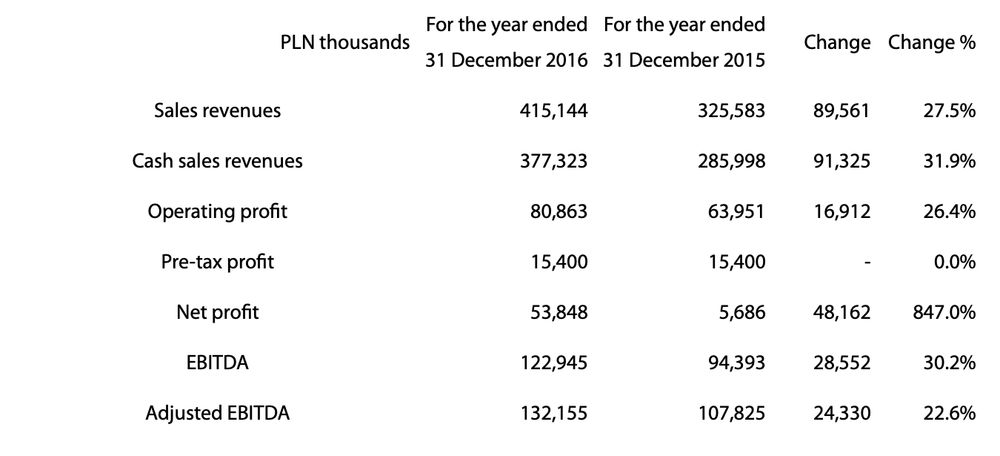 The sales revenues posted by WPH in Q4 2016 were PLN 123 million, which when compared with the sales revenues for the corresponding period in 2015 represents over 20% growth. During the same period cash revenues stood at PLN 111 million, i.e. they were 24% higher than cash revenues in the last quarter of 2015. The EBITDA earned by the Group was up over 21% to PLN 38 million while adjusted EBITDA climbed to nearly PLN 37 million.
The table below presents the highlights of the financial results for the last quarter of 2016 and 2015.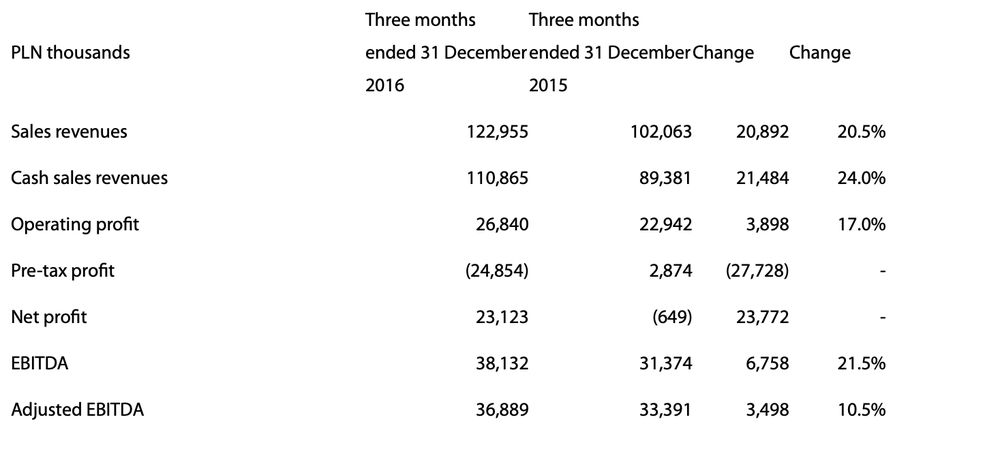 About WP
Wirtualna Polska is a horizontal internet portal used daily by approx. 4 million users. It comprises numerous specialist vertical portals, including sports portals, e.g. WP SportoweFakty, new technology portals, e.g. Dobreprogramy, entertainment portals – WP Gwiazdy, health and parenting portals – WP abcZdrowie.pl and Parenting.pl, and internet radio stations – Open FM and PolskaStacja. Wirtualna Polska's editorial teams are made up of journalists, reporters, foreign correspondents, editors and video producers.These teams create monthly over 35 thousand articles and photo and video materials for WP sites. As regards television production, the portal synergically cooperates with the newly created WP Television, using the broad collection of the channel's own productions, represented by such faces as Maciej Orłoś, Małgorzata Ohme, Igor Sokołowski, Marcin Antosiewicz, Kamila Biedrzycka-Osica and Małgorzata Serafin and commentators from different political options, Jacek Żakowski, Sławomir Sierakowski or Paweł Lisicki.
WP belongs to the WP Group, comprising: the o2 horizontal portal, Internet radio stations – Open FM and PolskaStacja, deal aggregators (marketplace), Domodi and Allani in fashion, Homebook in the home and interior decoration category, Money.pl and Finansowysupermarket.pl in financial services and Wakacje.pl and nocowanie.pl in tourism and recreation.