Wirtualna Polska Holding S.A. recorded a nearly 50 percent increase in EBITDA profit in Q1 2021 relative to 2020 Also revenues increased dynamically. The results are higher than those recorded both in 2020 and before the pandemic. Each month the Company's online services were used by nearly 22 users.
Wirtualna Polska Holding S.A.'s total sales revenues in the online and TV segments in Q1 2021 stood at nearly PLN 180 million. This is one fifth more than in the corresponding period last year. The Company's net profit exceeded PLN 27 million and EBITDA PLN 60 million, up 48%.
– In Q4 2020 and Q1 2021 our media sky – the display digital advertising market – saw a rare phenomenon. In our opinion, Polish portals as a whole, not only WP, were growing faster than Google and Facebook taken together. This is the result of exceptionally high demand for digital image campaigns after the lockdown – says Jacek Świderski, CEO of Wirtualna Polska Holding S.A.
In the foreign travel area, which was hit the hardest by the pandemic, Q1 2021 results exceeded budget assumptions. An increase of the number vaccinated people in Poland and the easing of restrictions in increasing numbers of countries will have a strong impact on the growth rate in this area in the months to come.
Wirtualna Polska is developing an advertising tool – WP Sales Booster which enables e-commerce stores to boost the sales of their products. The product, launched half a year ago, bypasses intermediaries. As a result, it reduces the cost of campaigns for advertisers and, by improving marketing effectiveness, it boots clients' sales with a guaranteed ROAS (return on ad spend).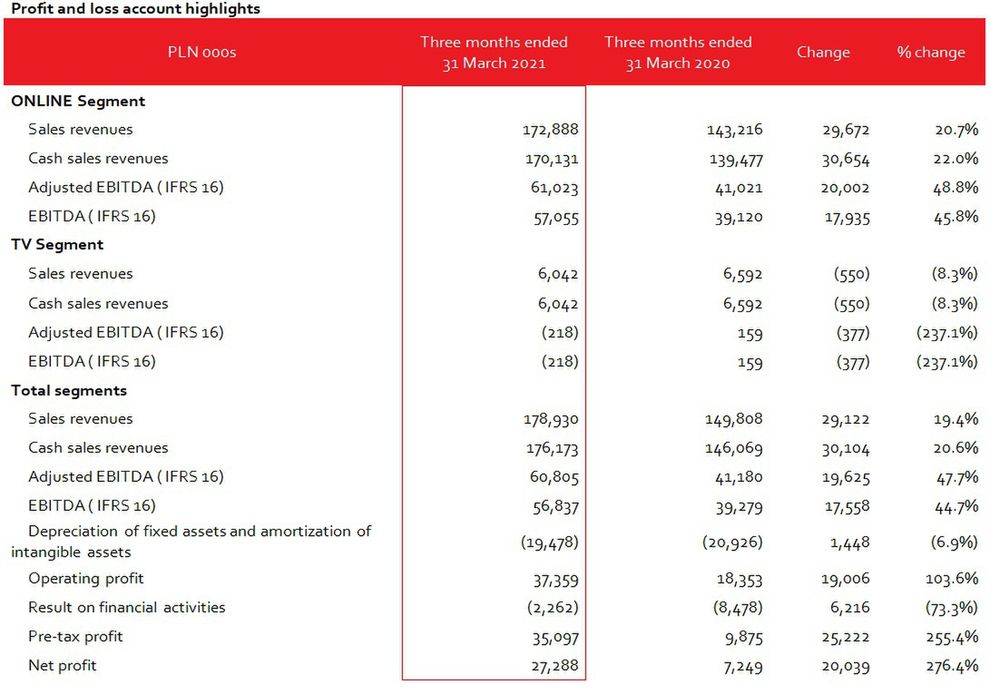 Wirtualna Polska continues its multi-stage process of going green. From 2021 it purchases only energy from renewable sources. Users of Wirtualna Polska's services may switch to dark mode which makes it possible to, among others, save energy in devices using OLED displays. In April 2021, the Company launched its test photovoltaic farm which supplies one of the server rooms. The aim of these efforts is for Wirtualna Polska to reach zero emissions and climate neutrality by 2023.
Wirtualna Polska is a technological holding group involved in media, advertising and e-commerce business. It owns the WP Home Page and operates specialized topical websites such as money.pl, WP SportoweFakty and autocentrum.pl. In the e-commerce sector, WP operates in the areas of leisure travel (wakacje.pl, nocowanie.pl), fashion (domodi.pl and allani.pl), interior design (homebook.pl), house design (extradom.pl), financial services (totalmoney.pl) and automotive (superauto.pl). According to a Mediapanel survey, 21.9 million Poles used WP's online products in April 2021.