In 2022, Wirtualna Polska Holding S.A. earned sales revenues exceeding PLN 1 billion. This signifies an increase of almost 24% compared to 2021. Adjusted EBITDA was up 21% to over PLN 371 million. The dynamic growth was made possible by investments in product and technology development and acquisitions carried out by the company in H2 2022.
In 2022, after a series of acquisitions, Grupa WP identified its three main operating segments: advertising and subscriptions, tourism and consumer finance. Total consolidated sales revenues of Wirtualna Polska Holding S.A. in 2022 amounted to more than PLN 1.07 billion. They were almost 24% higher than in 2021. Adjusted EBITDA increased by 21% to PLN 371 million. Net profit amounted to PLN 178 million.
"This solid performance in 2022, despite the unfavorable macroeconomic environment, was mainly driven by growth in the tourism segment. We have expanded our offering in this segment, including through acquisition in Central and Eastern Europe. In Poland, we invested in the editorial team and technology, which we believe are the reason for our above-market growth on the advertising market. One of these investments is the WP Ads panel for the self-management of advertising campaigns, which has already attracted 700 clients. There is also a constantly growing number of campaigns that are implemented in this way outside of the WP spaces or on the advertising spaces of our partners," says Jacek Świderski, CEO of Wirtualna Polska Holding S.A.
WP Ads is a self-service tool for managing advertising campaigns on the advertising space of WP and other publishers in the WPartner network. The key feature of WP Ads is the ability to pay for actual sales generated by the client. It also offers numerous advertising products such as mailing, banner and native campaigns with per-click-billing. After registering at https://ads.wp.pl and adding credits to the account, any company can start setting up its campaign.
In WP Ads, users will find options that offer, among other things, precise targeting of the campaign by selecting a target group from more than 500 segments of user interests and intentions. Additional factors that can be defined include devices and topical categories of the websites, which is supported by algorithms that optimize campaign results. The panel allows reaching more than 90% of Polish web users.
In the second half of 2022, Wirtualna Polska Holding S.A. made a total of six significant acquisitions and investments. The company purchased a 40% stake in Patronite, Poland's largest website connecting creators and patrons. It paid EUR 83 million to acquire the Szallas Group, which operates the largest national travel websites enabling accommodation bookings in Hungary, the Czech Republic, Romania, Poland and Croatia. Grupa WP acquired a 100% stake in Benchmark.pl, one of the leading Polish websites on computers, new technologies, video games and electronic devices. It also bought Mediapop, the owner of several online portals reaching more than 12 million Poles. WP also became the majority shareholder of Audioteka S.A., one of the most recognizable and largest audiobook websites operating in Poland, Germany, the Czech Republic, Lithuania and other countries. Grupa WP also purchased a stake of approximately 44.5% in Selsey, one of the leading online stores in Poland selling home and garden products. Overall, in H2 2022, Wirtualna Polska Holding spent over PLN 580 million on acquisitions.
In 2022, Wirtualna Polska Holding S.A. continued to inveset in its own renewable energy sources. The company owns photovoltaic farms with a total capacity of almost 5 megawatts.
Profit and loss account highlights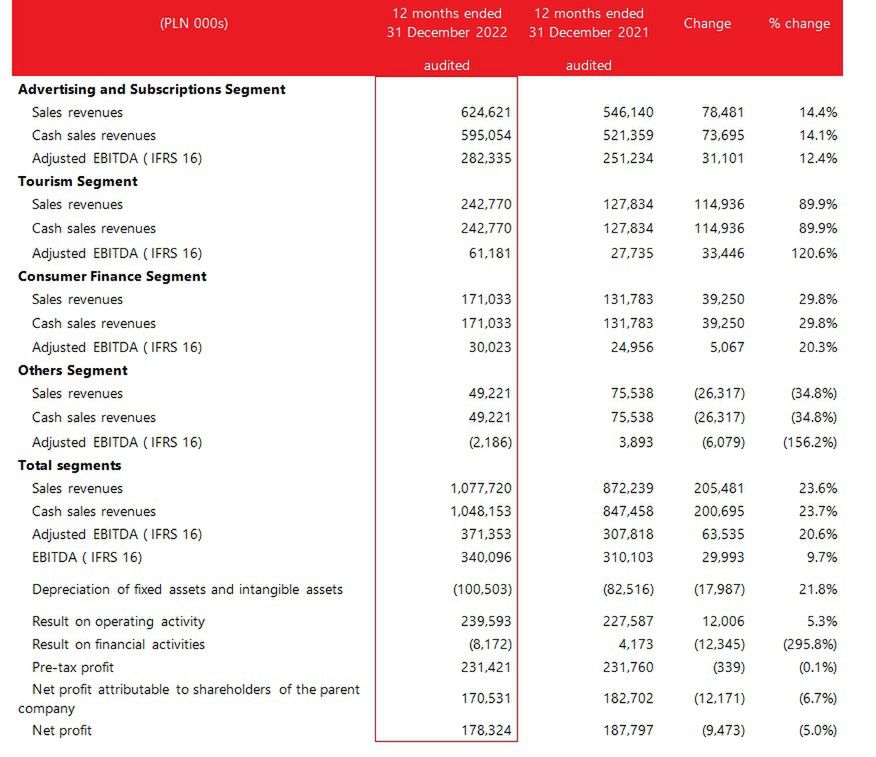 Grupa WP is a technology holding group engaged in media, advertising and e-commerce business. It owns the WP Home Page and operates specialized thematic websites such as money.pl, WP SportoweFakty or benchmark.pl and holds shares in subscription services such as Audioteka and Patronite. In the e-commerce sector, WP is mainly present in tourism (among others, wakacje.pl, Szallas Group, nocowanie.pl) and consumer finance (superauto.pl and totalmoney.pl). According to a Mediapanel survey, 23 million Poles used WP's online products in March 2023.