The EBITDA of the online and tv segments surpassed PLN 73 million. That in turn signifies growth of nearly 32%. Cash sales revenues in the online segment rose by just under 20% in the first six months of 2018. Cash revenues in the tv segment climbed by a whopping 172%.
The following table presents the main positions of the income statement for the first six months of 2018 and 2017.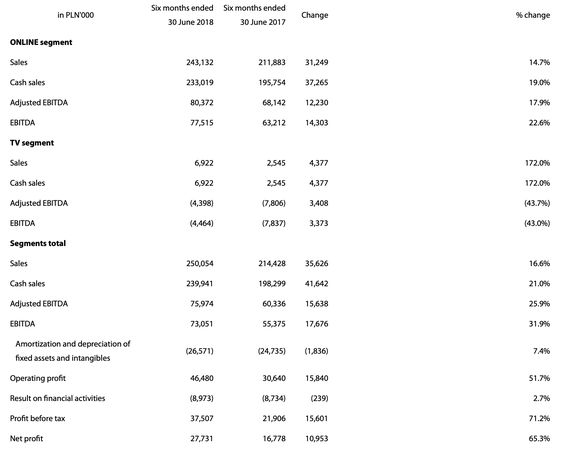 - We have now completed the first full quarter from the time when we separated the management of media activity from e-commerce. These results confirm that we made the right changes. Joanna Pawlak and Grzegorz Kruk have acclimated to their new roles well - says Jacek Świderski, CEO of WP Holding SA.
In March of this year, Joanna Pawlak was promoted to be the Vice-President of WP Holding SA responsible for media (and the CEO of WP Media SA which is owned by WP Holding SA) and Grzegorz Kruk was promoted to be the Vice-President of WP Holding SA responsible for e-commerce companies.
After it seized the pole position among the stations broadcasting on MUX8, WP TV's competitive edge continued to become more pronounced in subsequent months. The station's share in the commercial viewer market (viewers aged 16-49) was 0.45% in July 2018.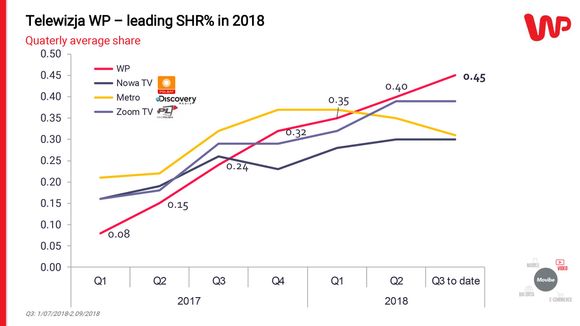 The number of real users of Wirtualna Polska's products in the online segment is on the rise. We saw 5% growth in July 2018 in comparison with the corresponding period of 2017. Even our global competitors cannot boast such a result in the Polish internet.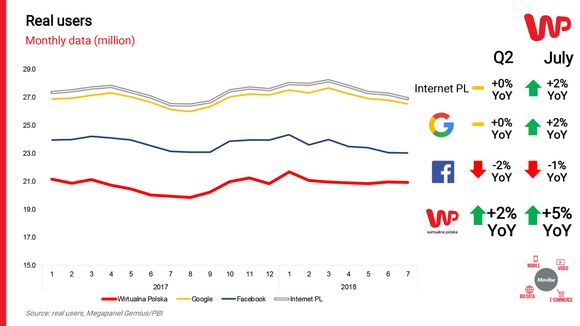 - The period of rapid growth in the numbers of Google and Facebook users in Poland has ended. This will signify a slower pace of growth in the revenue these platforms will generate in the future - adds Jacek Świderski, CEO of WP Holding SA.
The ad visibility rate in July 2018 came in at 93%. In January 2018 Wirtualna Polska was the first player on the market to supplant standard CPM billing with vCPM (Cost Per viewed Mille) billing.
In March of this year Wirtualna Polska acquired a 35% equity stake in the Domodi Group. The original plan had anticipated that the purchase of the remaining 14% stake would be possible after the end of the 2018 financial year. However, WP Holding SA finalized the acquisition at the beginning of September. This became possible because the process of turning over the management to Adam Plona was completed sooner than planned.
Wirtualna Polska is a group of companies operating in the media and e-commerce sectors. The WP Group owns the Wirtualna Polska horizontal portal. It also operates the o2 portal and various specialized websites, such as Money.pl, WP SportoweFakty, WP abcZdrowie and dobreprogramy.pl. In the e-commerce industry, WP's is active in the tourism, fashion, interior design, financial services and healthcare sectors.